Plenty of medical assistant jobs are available in the healthcare sector. In fact, the number of jobs available to qualified healthcare professionals all over the US is expected to increase over the years. The situation is no different in RGV. A job in the healthcare sector is ideal for people who enjoy giving care and support to others.
Landing a job in the medical field is easier, faster, and more affordable than you think. Read on to find out more.
Low entry barrier
Plenty of entry level jobs are available in the medical sector. You don't have to spend years at university to land one of these jobs. For example, you can start working as a medical assistant after completing a short term course.
Another advantage of landing an entry level job is that it will give you first-hand experience of what it is like to work in the healthcare industry. If you enjoy it, you can get additional qualifications and grow in your career.
This article will give you some information regarding the entry level jobs available in the medical sector along with some tips for landing them.
Clinical medical assistant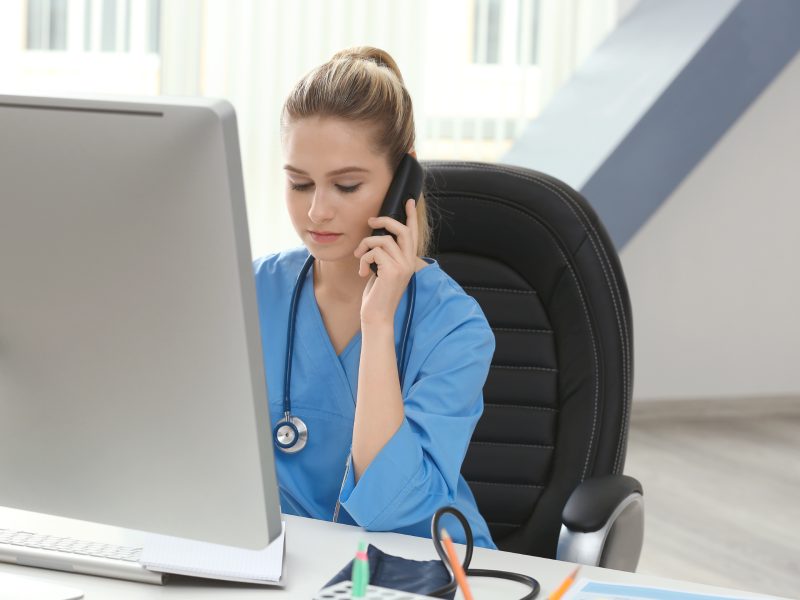 A clinical medical assistant performs jobs ranging from entering patient information into the database to drawing blood. After working as a clinical medical assistant for a while, you can pursue nursing or phlebotomy. One of the main advantages of working as a clinical medical assistant is that it gives you the option to choose the medical setting you want to work in.
In demand jobs
Jobs in the medical field are usually in high demand. In fact, the medical field employs about 14% of all  U.S. workers. By 2019, it is expected that there will be a 15 percent increase in the number of medical jobs. Consequently, switching to the medical sector is a smart choice regardless of which job you want to choose.
Certain jobs are more flexible and versatile than others. Before choosing any particular medical career classes, it is important to find out exactly what they offer. Choose an in-demand job that you will enjoy and that offers you an opportunity to grow in your career.
A clinical medical assistant, phlebotomist, and CNA get to work in a variety of medical settings. The job opportunities available to them are expected to increase considerably over the next five years. This makes healthcare jobs ideal for people who seek financially stable and emotionally rewarding jobs.
You do not have to complete 8 to 12 years of medical studies to build your career in the healthcare sector. The entry level jobs are the best option for candidates who want to launch their careers quickly. Many of these jobs only require training that can be completed in 1 to 5 months.
Once you have completed the course, you can apply for certification and start searching for a job. That means you can leave the unsatisfactory job you are currently holding, join your local CNA classes, and find a more rewarding job in fewer than 6 months.
Why should you opt to be a nursing or medical assistant?
The most important reason, of course, is the low entry barrier. You can land these jobs quickly as they do not require university degrees or extensive training. This is a huge draw for people who are not exactly sure if they have a lasting passion to work in the healthcare sector. After working as a nursing assistant for a couple of months, if you decide that this is the field you want to work in, you can continue your studies and choose to become an LVN.
Prioritize flexibility
If you already have a busy life with a job and a family to take care of, the thought of finding time to pursue a nursing assistant course can be daunting. Don't worry. Many schools offer training programs that you can complete at a time convenient to you. For example, there are Saturday or evening classes for those who cannot attend regular classes.
Choose a school that insists on quality
A healthcare job involves people's health and wellness. As a nursing or medical assistant, your job is to help people achieve optimal health. That means you need to be properly trained so that you can do complete justice to your job. Make sure that you are choosing a school where the mentors have years of experience. The classes should be comprehensive and you should receive enough hands-on experience.
Before entering the medical field, you should be equipped with the tools, training, and skills required to give your patients the best care.
Difference between a medical assistant and a certified nursing assistant
You don't need a college degree to be a medical or nursing assistant. You don't even need an associate degree to land these jobs.
Medical assistants offer patient care as well as perform administrative tasks. They may administer shots, measure the vital signs of patients, help doctors perform medical examinations, and prepare blood samples for testing. They also schedule appointments and enter patient data into the database.
Certified nursing assistants do not perform any administrative duties. They work with their patients all the time. They help patients perform their day-to-day activities. For example, they may bathe patients who cannot do it themselves and help them get dressed. They may also have to feed patients and help them get off the bed and sit in the wheelchair. CNAs are also trained to take the vital signs of their patients and convey their concerns if any to the nurses.
You don't need a post secondary degree to be a medical assistant. However, most employers prefer candidates who have successfully completed a course in medical assistant training. It takes fewer than 12 months to complete a course in MA training. These courses will teach you the basics of human anatomy and essential medical terminology.
You need certification to start working as a nursing assistant. In order to be certified, you have to do a training program approved by the state. After completing the course you should also pass a competency exam mandated by the state.
CNAs usually work with people suffering from some mental impairments or physical disabilities. If caregiving is something you truly enjoy, you will never regret choosing a career as a nursing assistant. While it is true that this is an entry-level position, one can never underestimate a nursing assistant's contribution to the overall well-being of patients.
Preparing for the exam
Many candidates find it challenging to prepare for the CNA exam. However, this is not as hard as you think. Choose the right certification program to improve your chances of getting hired. Also, make sure that clinical training is an important aspect of your certification program. Without hands-on experience, it is not possible to gain essential skills.
Clinical training gives you an opportunity to work with patients in a hospital, nursing home, or senior care facility. Note that clinical training requirements vary from state to state. Some states require only 16 hours of clinical training while in some other states, you may require as many as 100 hours of clinical training. A registered nurse will supervise your clinical training. This hands-on experience will help you avoid many mistakes on the CNA exam.
Doing a CNA training program alone will not get you certified. There are some additional assessments as well. For example, your mathematical and reading abilities will be assessed. You should also get your GED or high school diploma verified. CNAs should enjoy good health. For this reason, they have to get several health tests done before they can start working as a CNA. In addition, there will be a criminal background check.
There is no dearth of jobs in the healthcare sector even for those who lack a college degree. If you have a caring attitude and a state-approved certificate you can start working as a CNA or MA and enjoy a stable income and job security.